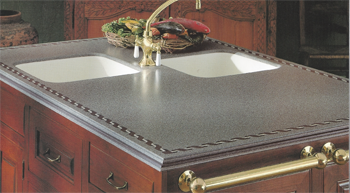 WHATEVER HAPPENS, DO NOT DESPAIR!
Corian® is characteristically a renewable product because it is solid and uniform all the way through. Most countertop damage, including severe impact, heat or chemical damage, can usually be repaired on site to restore the original, smooth, hygienic solid surface integrity. Typical countertop damages are from: pan scorches, scratches and slight abrasion marks from normal daily use. If your solid surface counterop has been damaged from using it as a cutting board, it may have cut or chop marks on the surface. Chemical spills of strong chemicals such as paint stripper, metal cleaners or oven cleaners may remove the original shine and beauty of your Corian® counter top.
Surface Surgeon can take this renewable solid service product and perform a counterop restoration and fully restore it! With countertop restoration we can remove countertop scratches, repair countertop cracks, damage from abuse and normal wear and tear and even cigarette burns! Call Surface Surgeon to professionally repair, restore or refinish your Corian® countertop!
Surface Surgeon is a specialist repair company, concentrating on repairing, refinishing and restoring your solid surface countertop in South Florida.
After being an authorized warranty service agent for many years with several material manufacturers, Wayne learned and helped develop many techniques still being practiced today.
Surface Surgeon specialties includes sink and countertop restoration of the following for residential, marine and light commercial:
• Surface Surgeon Restores Cracked Solid Surface Corian® Countertops
• Surface Surgeon Repairs Cracked Corian® Kitchens Countertops
• Surface Surgeon Resurfaces Corian® Custom Countertops
• Granite
• Marble
• Quartz
• Cracks
• Chips
• Scratches
• Separated Seams
• Burns
• Stains
• Damage from Improper Cleaning
• Fading of luster
SURFACE SURGEON REPAIRS CORIAN®, QUARTZ, MARBLE , AND GRANITE COUNTERTOPS:
How can I prevent my countertop
from cracking again?
Many cracks and breakage with solid surface countertops occur due to exposure to excessive heat. Please follow your manufacturer's care and maintenance recommendations to the letter. A few future precautions to avoid damage are:
• DO NOT place a hot skillet or pan directly from stove onto a solid surface countertop or solid surface sink. A potholder or folded towel is not adequate protection.
• DO NOT use any type of electric frying pans, irons, griddles or other high-temperature portable appliances directly on a solid surface countertop. Only place appliances on a solid trivet with rubber feet that is larger than the appliance. The barrier and the cool air gap beneath should protect the countertop from damage. Household toasters and residential coffeemakers generally do not produce enough heat to cause damage.
• DO NOT pour rapid boiling water into a solid surface sink without simultaneously running cold water in the sink. Rapid expansion to the product can cause a crack in the sink.
Wayne Overton leads the industry when it comes to repairing, refinishing or completing a full restoration on your solid surface countertops. Our team of skilled and trustworthy countertop experts will work with you every step of the way. Let Surface Surgeon repair and restore your damaged or cracked Corian®, quartz, granite or marble countertop today. Serving South Florida including: Palm City, Stuart, St. Lucie, Jupiter, Palm Beach, Fort Lauderdale, Miami, Fort Myers, Cape Coral and Naples, Florida.