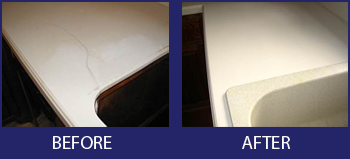 Surface Surgeon is professionally trained in small or large scale residential, commercial and marine solid surface repair. Whether you require repairs to a cracked countertop, chipped sink or want to restore its shine and brilliance, Surface Surgeon is qualified to repair, restore, modify, refinish and polish any type of damaged surface area.
At Surface Surgeon, our repair services are second to none. We are prepared to repair a wide variety of countertop damage. All of our solid surface specialists are fully licensed and insured to perform repairs on countertops. At Surface Surgeon we can make a substantial difference to, if not completely fix countertop repairs that contain the following defects: cracks, breaks, chips, pitting, burns, seam separations, edge separations, warping and stains.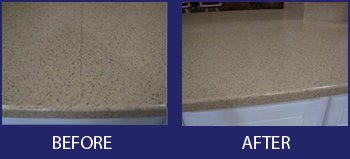 At Surface Surgeon we have specialized in Corian® and many other solid surface materials for decades. Surface Surgeon repairs cracked countertops and sinks and can polish your countertops removing scratches, stains, and dullness with our refinishing method. Our mission is to restore your solid surface countertops to their original beauty while saving you money. Solid surface repairs are done at a fraction of the cost of replacing entire countertops. And most repairs are completed in less than a day!
Surface Surgeon proudly performs services on all major types of solid surface material. These include, but are not necessarily limited to: CORIAN®, CORINTHIAN®, HANEX®, STARON®, CAESARSTONE®, HI-MACS®, LIVINGSTONE® WILSONART®, ZODIAQ®, CAMBRIA®, VIATERA®, AND SILESTONE®. We are your one stop shop for solid surface countertops repair. Restore your solid surface countertops to their natural beauty with Surface Surgeon. Simply call or fill out our Contact form to receive a free quote regarding countertop repair, resurface and restorations!
SURFACE SURGEON REPAIRS CORIAN®, QUARTZ, MARBLE, & GRANITE COUNTERTOPS:
• Cracks
• Chips
• Scratches
• Separated Seams
• Burns
• Stains
• Damage from Improper Cleaning
• Fading of Luster
Wayne Overton leads the industry when it comes to repairing, refinishing or completing a full restoration on your solid surface countertops. Our team of skilled and trustworthy countertop experts will work with you every step of the way. Let Surface Surgeon repair and restore your damaged or cracked Corian®, quartz, granite, or marble countertops today. Serving South Florida including: Palm City, Stuart, St. Lucie, Jupiter, Palm Beach, Fort Lauderdale, Miami, Fort Myers, Cape Coral and Naples, Florida.